Join our Academy
STOP PRESS! Year 6 parents? Join our Academy…
Last few places available for September Year 7 – act now to apply for a place. Our waiting list is moving fast
Please complete the 'In Year Admission Form' below immediately and send to Office@saa.woodard.co.uk
IS YOUR CHILD IN YEAR 5 AND YOU'RE STARTING TO LOOK AT SECONDARY SCHOOLS?
As a parent/carer, when your child is in year 5, you will be making that critical decision - which school is right for our child? Research shows that academic attainment and an atmosphere where your child will be happy and valued are top priorities. If you're looking for a small, friendly school with excellent facilities within easy reach of the centre of maidstone and on main bus routes, then make sure you come and visit St Augustine Academy.
At St Augustine Academy, we can provide a grammar stream which gives all students the chance to shine and to be a role model for those in year 7. As a small school, we can monitor progress carefully and this enables our staff to focus on encouraging and supporting students as individuals.
We also provide a mind opening Enrichment programme on Friday afternoons with a varied and exciting choice of activities that students can choose from each term. These include the chance to try out weightlifting, horse riding, taking part in one of our superb musical productions and many more!
We're delighted to announce that we are now able to welcome you to visit our Academy so you can see for yourself what your child could be enjoying at their new secondary school.
Please ring our Reception on 01622 752490 to book a tour. These will start on 9th and 10th June and then carry on on Wednesdays and Thursdays through July.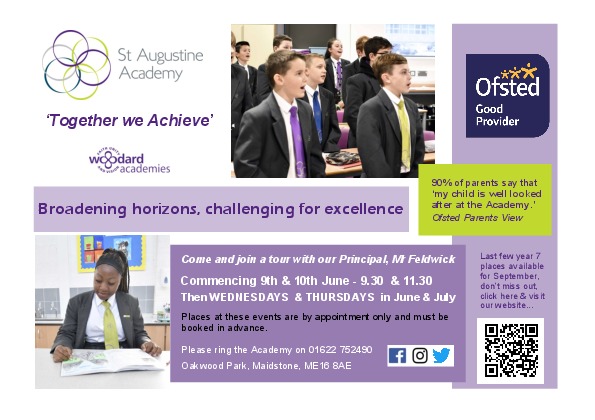 We look forward to meeting you!
In the meantime, please do take a look at our virtual tours which are in the Downloads section below. One of them is aimed at parents and carers but the other one will give your child a chance to get a flavour of what it would be like to be a student at the Academy on their first day in year 7.

Each year, the number of students that join us in year 7 is rising. Where do they come from? Last year, pupils joined St Augustine Academy from all these primary schools.



If you can't find that important piece of information you want or need more information on anything on the website, please ring Reception on 01622 752490 and we'll be able to find someone to answer your question.