Principal's Welcome
St Augustine Academy is committed to providing an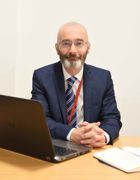 education that ensures all students succeed and make the best of the opportunities and experiences available to them.
Our core principles are based upon the educational, spiritual, moral, social and cultural development of our students. We believe that students engage fully and reach their maximum potential when the environment is both caring and orderly, combined with teaching that fires their imagination and brings learning to life.
Embedded in our curriculum are many opportunities for students to access the essential skills that have been identified by numerous employers as fundamental for successful employment. We place great emphasis upon leadership, teamwork, creative solutions and innovation. Our curriculum provides numerous opportunities for these and other relevant skills to be introduced, practised and mastered so that when our students go forward into the world of work they are fully prepared.
The core purpose of academies is to transform the education and life chances of not only individuals but also the local community. We exemplify these notions as we seek to inspire our current students and those of future generations to succeed. We have a great deal to offer our community and look forward to working with others in ensuring that we genuinely do make a difference to the life chances of our students.
Principal - Jason Feldwick
St Augustine Academy