Ofsted
Our l

atest Ofsted Inspection took place on 20th-21st February 2018 and we were delighted to receive a second endorsement from the Inspectors – we are GOOD – again! In 2014, St Augustine was also rated as Good. Staff, students and Academy Council members were determined that we would continue to prove that we provide a great quality of teaching and learning for all Academy students.

Academy Principal, Jason Feldwick said:
"We are very happy to share with you our recent wonderful Good Ofsted report from February 2018. Our 'Good in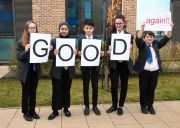 all categories' is testament to the hard work and commitment of all staff, including our dedicated Academy Council members. The staff were praised for the quality of their teaching and students were recognised for their efforts, with improving attainment, attendance and their attitude to each other and their learning commented on by the inspectors.

I encourage you to read the whole Ofsted report, which describes exceptionally well our excellent Academy."
---

Our previous Ofsted Inspection took place on 1st & 2nd October 2014. Staff and pupils at St Augustine Academy in Maidstone celebrated after receiving an overall 'Good' rating from Ofsted, following their two day inspection earlier this month.

Ofsted inspectors rated the academy 'Good' for its overall effectiveness and in all five core categories – Leadership and Management; Behaviour and safety of pupils; Quality of teaching; Achievement of pupils; Sixth form provision. During the two days, inspectors observed 35 part lessons; they also observed an assembly.
Inspectors praised the academy's 'strong' leadership, 'excellent' student behaviour and said 'their positive attitude to learning helps students to make good progress in their lessons.'
Jason Feldwick, principal at St Augustine Academy, said: "We are thrilled to have been given such a great endorsement by Ofsted, who have recognised the hard work of everyone at the academy to improve standards and build upon that ongoing success."
"Our core principles are based upon developing the gifts and talents of all students, whatever they may be, and guiding them onto a career path to fulfil their aspirations."
St Augustine Academy opened in September 2011 and is sponsored by the Woodard Academies Trust.