Curriculum Overview
* An overview of our curriculum is shown below but please note that all of these documents are currently being updated and these will be available on this page in early January.
Below are the curriculum maps for each individual year groups:
Year 10 Curriculum Map 2022-23
Year 11 Curriculum Map 2022-23
Please see below a document explaining EBacc:
Curriculum Intention and Rationale
Strategic Intention
An ambitious curriculum that caters for the needs of a wide range of students.
Raises the standards of achievement.
Allows all students to experience success.
Allows students to progress onward to a comprehensive range of post-16 education pathways.
Expands students' perspectives through a range of spiritual, moral, social and cultural opportunities including British values to promote their sense of moral and social responsibility.
Provides an education that creates an enthusiasm for lifelong learning beyond the quest for exam success.
Ensures that all students acquire high standards in Literacy and Numeracy.
Promotes reading as an explicit focus.

Rationale
The curriculum remains grounded in developing core skills. Learning is personalised with student pathways to ensure all students achieve their full potential. As an Academy, we are committed to providing the right curriculum offer for our students to succeed and progress. As such, we retain a vocational offer, a full range of academic and creative subjects and consider all courses on the merit they provide for our students.
Increasing basic core attainment is essential in developing self-motivated learners with high aspirations. An engaging, creative curriculum will also empower students to become self-confident, independent and flexible learners in an ever-changing world of opportunities.
Curriculum Principles
Principles:
KS3 – Years 7-9 A broad and balanced curriculum; incorporating 16 subjects.
Students access 30 hours of EBACC subject time, 12 hours of Creative Studies (Art, RM, Food, Drama, Dance, Music), 2 hours PSHE and 4 Hours of Physical Education. The remaining 2 hours is dedicated enrichment time.
We have discrete Geography and History lessons in year 7 - 9 to reinforce learning and attainment in these core EBACC subjects at Key Stage 4. Students will benefit from the delivery of discrete RE during one lesson a week as well as one lesson of PSHE and ICT. Discrete careers lessons help to assist in the addressing the Gatsby Benchmarks within the National curriculum.
Our comprehensive enrichment program is offered to all KS3 (Years 7-9) students and aims to discover new talents or passions. Students can participate in a wide range of activities from the areas of STEM, the performing and creative arts, sports and more academic fields. KS4 students take part of the Duke of Edinburgh Award Scheme.
All students study a language in year 7 and 8 and 9.
Reading
At St Augustine Academy, we understand that literacy sits at the heart of the curriculum because all subjects are taught in English: pupils need the foundational knowledge of reading, writing, speaking and listening in order to access the breadth and depth of the curriculum. All teachers have a key responsibility to teach literacy, no matter their subject specialism. We recognise that regular reading helps pupils to develop greater fluency, vocabulary and background knowledge, which supports their development across the curriculum.
What will you see at St Augustine Academy?
A well-stocked library with active librarians promoting reading, running enrichment activities, creating relevant thematic displays, running competitions and promoting reading
A range of writing competitions promoted by the English department throughout the academic year
What is my teacher reading? Posters that celebrate the reading habits of staff across the academy
DEAR (Drop Everything and Read) in every mentor group years 7-11 for twenty minutes every week – all pupils are expected to have a book in their bag
A weekly WOW (word of the week) linked to our themes and assemblies
A team of tutors providing bespoke reading interventions for students to support them towards their chronological age
The use of Rosetta Stone to support the development of reading for students with English as a second language
Every department has a specific disciplinary literacy policy and action plan detailing how they will teach reading, writing, speaking and listening within their subject areas i.e explicit vocabulary instruction using choral repetition
Twice yearly reading age testing, with reading ages reported to parents and given to staff to consider within their own planning and preparation of lessons
In English, termly reading lessons in the library, bespoke booklets to support reading and learning, further recommended reading lists for every year group
KS4
At KS4 students personalised pathways will continue. Students will be guided to pick either the Core route, Personalised route or the Baccalaureate route.
Baccalaureate route will take triple science, a humanity and a language. (38% approx.)
Core route will take combined science, a humanity or a language. (48 % approx.)
Personalised route have a free option choice to include mainly vocational subjects. They will also benefit from early consultation with our Careers adviser. (14% approx.)
We are aiming to increase our uptake of EBACC subjects for progress 8 (see curriculum statistics section). We have had considerable success with Geography and History. We are aware our uptake and attainment in Languages needs to improve and this remains a key focus. To assist with this, we have increased the staffing in the MFL department and plan to further enrich the languages curriculum with overseas trips and cultural events throughout the year.
Where appropriate, students are offered the chance to take an additional GCSE in their home language.
The curriculum has been altered to allow more time for science due to the increased demands of the science curriculum. We have also changed our delivery to facilitate our higher attainers on entry following the triple science course. This will involve using one of their options to give appropriate curriculum time. All students will benefit from their science classes being delivered in 3 discrete subjects; biology, chemistry and physics.
The majority of courses on offer will be GCSE. However, BTEC, VCERT, NCFE and CACHE or Vocational GCSE courses are still available in the Core and Option parts of the curriculum offer into 10.
We have a comprehensive offer of courses including a GCSE in Event Operations to complement our vocational pathways alongside our popular Retail Business course. We have also decided to offer LiFC Finance from the London Institute for Business and Finance. LiFC or LiFE is an online financial education program that aims to ensure more students gain valuable financial awareness. By studying the LiFC, we will enable students to engage with finance-specific knowledge and understanding by relating it to personal financial decision-making. It will also provide an insight into a range of career opportunities, within the financial services industry and other industries, and how to apply for jobs. These are all essential life skills which we feel are imperative for our students today. As such we will be offering this course to our students, particularly aimed at lower attaining students who need more guidance in this area. We will offer this and understand that it will not accrue performance points for the school league tables but this has been reviewed and is now back in the performance tables for 2024 onwards.
Year 11 students are involved in focus days aimed at supporting and extending skills. Year 11 focus day events include careers and interview workshops in conjunction with the DWP and exam mindset and resilience workshops.
Individual and Small group (5) tutoring is offered to key students in year 11 in the core areas of Maths and English from a dedicated team of staff employed specifically for this reason. We also utilise the services of MyTutor for online tutoring in English and Maths and are making extensive use of the school-led tutoring programme.
Equality
It is fundamental to St Augustine Academy's curriculum intent that we offer academic and vocational choices that meet the needs of all our students.
SEN Provision – It may be appropriate for some students to have a reduced number of options due to complex needs. Where this occurs, these students benefit from enhanced tutoring in the Core areas of English and Maths, or highly individual provisions such as physiotherapy or communicate (reading and writing).
For students from our ARC Provision – timetables are personalised to allow achievement within their capabilities. Some students are withdrawn from subjects to allow them to settle/transition into a secondary school setting. For example, it may be appropriate that they do not participate in Drama or Music if they struggle with group work and performance. Where this is felt appropriate, life skills and reinforcement of core elements is provided by the ARC team of LSA's.
SEND students are given priority access to option groups. Bespoke programmes for ARC and SEND students are provided where required. Physical barriers are removed by long term planning such as height adjustable desks, specialised equipment in the food room and technology areas.
Option Subjects
During our options process we continue to offer a wide range of subjects. It is fundamental to St Augustine Academy's curriculum intent that we continue to offer academic and vocational choices that meet the needs of all our students. We review our offer on a year by year basis and review the courses on offer to ensure they best meet the needs of the students within each cohort. Students with SEND needs are allocated into option groups with priority and needs reviewed with the SENCO full access is ensured as well as bespoke programmes for ARC and SEND students where required. Physical barriers are removed by long term planning such as height adjustable desks, specialised equipment in the food room and technology areas.
Current option subjects
LIST OF AVAILABLE COURSES

GEOGRAPHY (GCSE)

PE (GCSE)

HEALTH AND FITNESS (VCERT)

HISTORY (GCSE)

DANCE (GCSE)

ICT (Vocational)

SPANISH (GCSE)

DRAMA (GCSE)

CITIZENSHIP (GCSE)

FRENCH (GCSE)

FOOD AND COOKERY (VCERT)

RESISTANT MATERIALS (GCSE)

PSYCHOLOGY (GCSE)

HEALTH & SOCIAL CARE (BTEC)

ART (BTEC)

PERFORMING ARTS (VCERT)

MUSIC (GCSE)

RETAIL BUSINESS V(GCSE)

ANCIENT HISTORY ( GCSE)

RELIGIOUS EDUCATION (GCSE)

FINANCIAL STUDIES ( LIBF)

MUSIC TECHNOLOGY ( NCFE)

TRIPLE SCIENCE (GCSE)

FILM STUDIES (GCSE)
New subjects introduced for 2022/23 Ancient History, Film Studies, Childcare. Review of Hospitality course changes has resulted in a return to the NCFE Food and Cookery course which has just returned into the Performance tables for 2024
Curriculum Statistics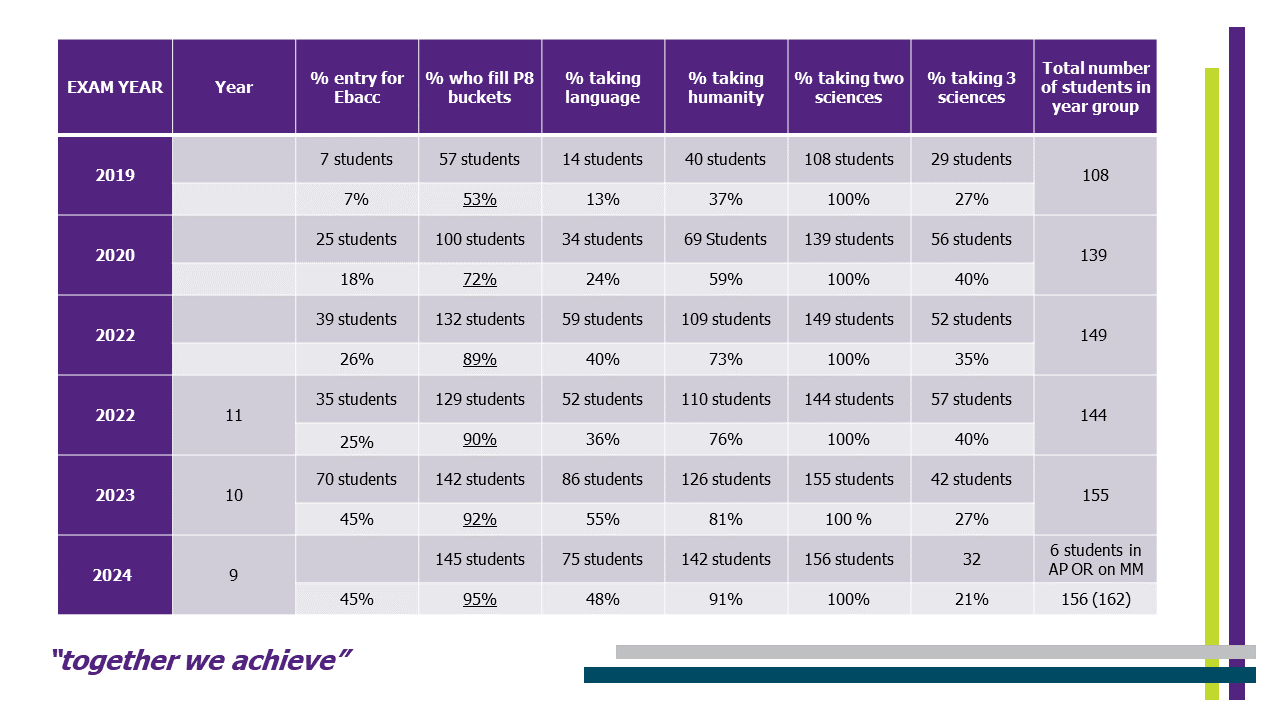 The changes to Progress 8 have been analysed and the options offer package has ensured that in 2019 53% of students have 8 blocks covered that will fulfil the English baccalaureate requirement rising to 72% and 90% in the subsequent years culminating in the current 2024 cohort achieving 95%. It is felt that in terms of progress measures and retaining a curriculum right for our students 7 blocks will allow us to gain a good Progress 8 score. With the knowledge that fewer subjects may return an improved Progress 8 score overall. Remaining subjects are all countable within the Technical awards category of the 2021 Key Stage 4 Performance tables.
Trips and Visits
The curriculum in enriched by a tailored program of trips and visits. We offer a wide range of trips and visits, including cathedrals, The Houses of Parliament, theatres and museums. We also offer a number of residential trips, including trips overseas.