Careers and Work Experience
Our vision is to create a collaborative environment between students, parents/carers and teachers with a student's aspirations and intentions at the centre. Students will be confident, resilient and motivated to achieve their best by seeking out opportunities, experience and resources that will allow them to fulfil their ambitions.
The careers education, information and guidance programme is designed to meet the needs of each and every learner at St Augustine Academy. It is differentiated to ensure progression through activities that are appropriate to our learners' stages of career learning, planning and development.
Careers & Work Experience Lead
If you wish to get in contact with our Careers and Work Experience lead, please contact Lewis Muir, via email at careers@saa.woodard.co.uk or phone at 01622 752490.
Our programmes next review date is July 2023.
The aims of the Careers provisions at St Augustine Academy are to:
Develop and maintain a culture of high aspirations through a fully embedded careers education, advice, information and guidance programme.
Raise and track learners' engagement within the Careers programme during their journey through St Augustine Academy and evaluate to ensure that learners are supported in raising their aspirations whilst being mindful of the ever-changing and competitive world around them.
Build a continuously increasing and relevant network of partners and providers who can engage learners in developing their career pathways. These partners will work in partnership with subject areas/key stages to develop collaborations enabling opportunities for learners to see clear links between their subject learning and the world of work
St Augustine Academy is proud to be working with The Education People's Specialist Employment Service to embed the supported employment model, adding value across all current careers provision. The contract aims to raise aspirations for SEND students and further enhance schools Careers Information advice and guidance programme. The supported employment in schools contract will help mainstream schools across Kent support SEND students through transition and to prepare them for the world of work and into sustainable careers.
Below are pages dedicated to specific year groups regarding the information that both parents/carers and students need for the milestones the students are reaching in their lives.
Year 11 - Transitioning to Post 16
Careers Programme 2022/23 Overview
Careers Programme 2022/23 Overview
In Year 7 our students…DISCOVER
Students will discover themselves, identifying their strengths, skills, attributes, qualities, weaknesses. Allowing them start applying themselves to begin exploring their future.
How do our students discover?
Careers Education Lessons - Skills, Qualities, Post 16 and 18 options.
Careers Fair
Employer and Apprenticeship Provider Workshops and Interventions
Higher & Further Education Encounters
Careers Week

In Year 8 our students…EXPLORE
Students will explore the different opportunities that they have and are able to have throughout their lives. As well as looking at how actions from an early age can impact their employability prospects.
How do our students explore?
Careers Education Lessons - Digital Footprint, Career Stereotyping, Labour Market Information, Personal Finance and STEM
Careers Fair
Employer and Apprenticeship Provider Workshops and Interventions
Higher & Further Education Encounters
Careers Week

In Year 9 our students…PATHWAY
Students will take the first steps in their pathways, by starting to choose their Key Stage 4 options. As well as looking at how they can start their employment journey from a young age.
How do our students pathway?
Careers Education Lessons - Post 14 options, Employment Rights andPost 18 options.
Careers Fair
Key Stage 4 Option Guidance Meetings with our Careers Adviser
Key Stage 4 Options Evening
Employer and Apprenticeship Provider Workshops and Interventions
Higher & Further Education Encounters
Careers Week

In Year 10 our students…EXPERIENCE
Students will bring their knowledge together to gain a full experience in a work placement setting at the end of Year 10, whilst preparing themselves for the work that is ahead in Year 11.
How do our students experience?
Careers Education Lessons - Citizenship, Volunteering, CVs and Personal Statements, Interview Preparation, Business Etiqutte and Personal Presentation.
Careers Fair
Employer and Apprenticeship Provider Workshops and Interventions
Work Experience Placement
Higher & Further Education Encounters
Careers Week

In Year 11 our students…APPLY
Students will take their experiences and shape them into a pathway for transitioning into Post 16 education. Shaping themselves into model citizens with the tools they need for the world of work.
How do our students apply?
Careers Fair
Post 16 Options Evening
Mock Interviews
Careers Guidance and Advice Interviews with our Careers Adviser
Careers Focus Day
Post 16 Applications via Kent Choices
Careers Week
Employer and Apprenticeship Provider Workshops and Interventions
Student Careers Passport - Grofar
At St Augustine Academy, our students use Grofar to access their careers programme. This is platform system where as an Academy we log and set all careers related activities, learning and experiences. Students can also look back on their record to see what they have been doing and what is yet to come.
Click below to find out more about how our students use Grofar.
Careers Guidance and Advice
St Augustine has a part-time Careers Adviser, Miss Salmon, who is available in school on every day from 8:00am till 3:30pm to meet with all Year 11 students individually. Additionally, Miss Salmon is available to meet with students from other Year groups by teacher referral or student/parental request.

Miss Salmon will provide support and guidance on:
Exploring career options and choices available for students based on individual strengths, interests and abilities.
Further education opportunities (college and 6th Form)
Apprenticeships, Training Providers and Traineeships
Careers Research and local labour market information
Interviews, Applications and CV writing

For more detailed information on these topics see the downloads below.

Students should also read 'My choices after year 11 – an action plan.' Click here.
Careers Education
In Year 7, 8, 9 and 10 students have dedicated lessons on their timetables to Careers Education. These lessons are designed to create and build aspirations within our students and to develop understanding and knowledge to prepare our students for the world of work.
You can find out more about our Careers Education lesson via visiting the subject place.
Work Experience
Every year 10 student takes part in the Work Experience programme at St Augustine Academy. It is intended to give students experience of working life and to develop and practise the various skills and attitudes needed in the workplace.

It also provides an opportunity to increase self-confidence, develop personal and social skills and helps to give a focus and relevance to their school studies. In some cases, it may also lead to the offer of a summer or Saturday job or an apprenticeship opportunity.

The whole process from researching placement opportunities to meeting with potential employers and securing a placement is the responsibility of the individual student. However, there is comprehensive support from the Work Experience Co-Ordinator who organises and runs the whole programme from start to finish.

Although the placement takes place at the start of July, the whole process begins in the previous November. It is important for students and parents/carers to realise that the placement does not always have to be linked to a future career choice. At this stage, many students may not have decided what they may want to do on leaving the Academy but Work Experience can give them valuable help in making these decisions as it gives them a chance to have a 'taster' of an area of work.
Getting Involved (Employers and other organisations)
Throughout the year we hold different events for employers, businesses, organisations, training providers, sixth forms, colleges and universities to be a part of. Please be aware that all times and dates are subject to change and we will confirm with you the dates.
Careers Evening
Mock Interviews with Year 11 students
Intervention and mentoring
Careers and Business Breakfasts
Employers Fair
We also have a bespoke Key Stage 3 Careers Education curriculum, through this we look to offer our students. Again if you would like to provide a course, activity or event to our students please email careers@saa.woodard.co.uk, this would be subject to timetables, dates and times of the Key Stage 3 classes.
Universities that we work with to provide our students with oppurtunities of Higher Education: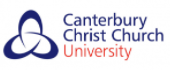 Alumni - CALLING ALL FORMER STUDENTS
If you are a former student of St Augustine Academy, we want to hear from you!
Your experiences since leaving could help to motivate and inspire our current students to feel more confident in making decisions about their future. We would love you to join our alumni network and stay connected with the school.
You can choose how and when you help – perhaps you can act as a career and education role model, provide work experience, become a mentor in person or online, or help with donations or fundraising.
It doesn't matter when you left us, whether you're in further education or employment, whether you still live nearby or have moved further away, there are still ways you can help.
In order to sign up, just fill in the online form – we promise it will only take a couple of minutes.
Thank you - and we look forward to hearing from you!
Please click the link below to open the form and register your interest
Provider Access Policy Statement
Provider Access Policy Statement
This policy statement sets out the school's arrangements for managing the access of providers to pupils at the school for the purpose of giving them information about the provider's education or training offer. This complies with the school's legal obligations under Section 42B of the Education Act 1997. A number of events, integrated into the school careers programme, will offer providers an opportunity to come into school and speak to students.

All pupils in years 8-11 are entitled:
to find out about technical educational qualifications and apprenticeships opportunities, as part of a careers programme which provides information on the full range of educational and training options available at each transition point;
to hear from a range of local providers about the opportunities they offer, including technical education and apprenticeships
to understand how to make applications for the full range of academic and technical courses.
As required by the Provider Access Legislation, the Academy must provide at least six encounters with approved providers of apprenticeships and technical education for all their students:
Two encounters for pupils during the 'first key phase' (year 8 or 9) that are mandatory for all pupils to attend
Two encounters for pupils during the 'second key phase' (year 10 or 11) that are mandatory for all pupils to attend
Two encounters for pupils during the 'third key phase' (year 12 or 13) that are mandatory for the school to put on but optional for pupils to attend
A provider wishing to request access should contact Lewis Muir (Careers and Work Experience Lead) who will then liaise with the appropriate senior leader to consider the request. They need to email: careers@saa.woodard.co.uk.

If the provider is spending their time working with our students, then we expect them to have a Disclosure and Barring Service (DBS) check, carried out by their employer. The single central record is kept up to date with DBS numbers for all staff, supply staff, volunteers, contractors (visitors) and Academy Council members. The single central record states that we must record the date we have received confirmation from the contractor or employing organisation stating that they have carried out Enhanced DBS and Barred List checks, references and right to work in the UK and identity checks. The single central record is maintained by the head of business support and PA to the Principal, Yvonne Lambert.

St Augustine Academy ensures that relevant space is made available; however, if we cannot provide the premises or facilities, then it is down to the provider's discretion as to whether the access takes place.

St Augustine Academy and its members of staff have the right to cancel any bookings made at any time due to internal and external factors. The provider also has the right to cancel due to internal and external factors. The provider must give notice via email to careers@saa.woodard.co.uk about the cancellation.
Destination Data
Below shows that last five years of destination data.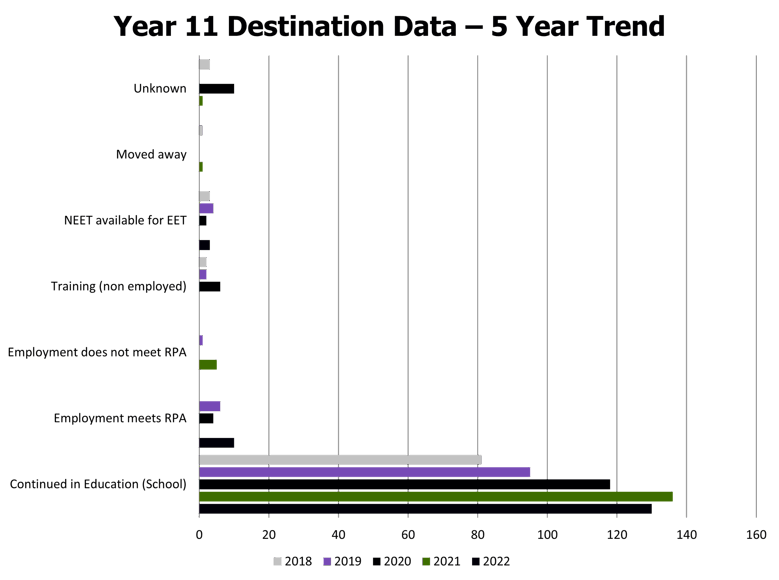 2021 NEET - National average - 6.4% (Awaiting the 2022 figure)
2022 Year 11 Leavers NEET- St Augustine Academy - 2% (Data collected from collaboration with Kent County Council)